Creating high-impact landing pages is essential if you want better results from your online marketing efforts. There are now many tools available that help you quickly create high quality landing pages. But which landing page tool is best? There are so many to choose from, each with different benefits.
To help you decide for yourself, we have compared and reviewed the three leading landing page tools – Online Sales Pro, Leadpages, and ClickFunnels. We've created a comparison table including ratings for key aspects of the tools, listed the pros and cons of each, and who each tool is best for.
First of all, why use landing page software?
You can create a landing page so that potential clients can learn more about what you are selling.

This software lets you create high quality web pages quickly and easily without needing technical knowledge.

Few design skills are needed as the tools come with many stylish templates.

You benefit from templates that are designed to bring your more customers.
Comparison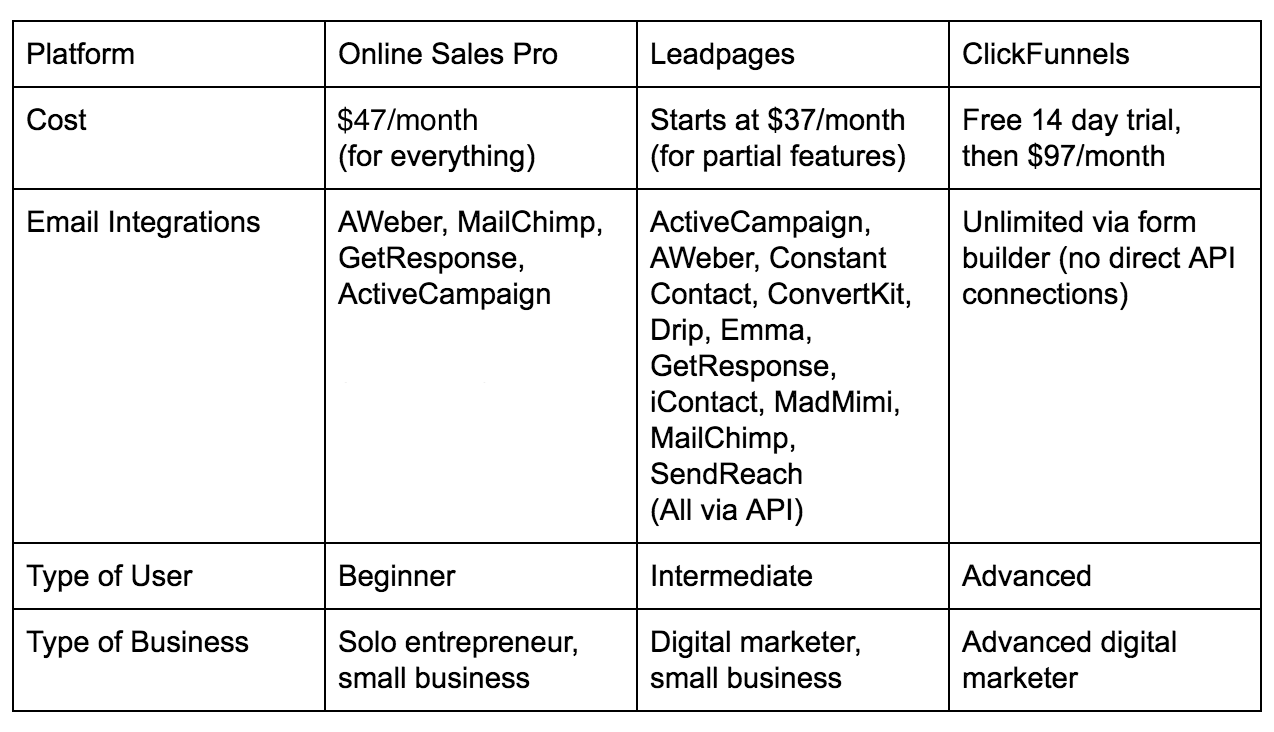 *API = Application Program Interface, a set of routines, protocols, and tools for building software applications. 
When comparing these three landing page builders, there's bound to be some overlap — after all, each option on this list supports all the fundamentals you could possibly need. If you'd like more help making your decision, here's a quick summary of who each page builder is best-suited to:
Online Sales Pro — The least expensive ($47 + all features) with a shallow learning curve. Ideal for less-technical users who want to put their landing pages together quickly and with minimal fuss. The mobile sales app (mobile CRM) really sets OSP apart, as this app helps you close sales from your mobile device. OSP also includes fantastic customer support. 
Leadpages— For users who want to put together slightly more complex landing pages than OSP, and who aren't afraid to spend a bit of time learning the ropes. Leadpages withholds features on its entry-level plan and does not have a mobile sales application.
ClickFunnels— The most sophisticated marketers' suite out of all of the options. A very capable custom landing page builder, with a feature set that extends way beyond landing pages. This platform is for advanced marketers with large budgets.